Punch HD, ERP software for the food and drinks sector
Punch HD is an integrated software package for breweries, producers of drinks, wine merchants, wine importers, beverage wholesalers, beverage importers and food wholesalers.

But Punch HD is more than just a software program! It represents a collaboration between you and Comperex. Therefore, Comperex not only commits itself to deal with all the legal obligations within your sector,
but also takes your suggestions onboard when it comes to improving the product and tuning it to fulfil the specific requirements of your business or branch.
If anything is unclear, our support team is ready to give you professional support.
Invoicing
Quick input of orders and invoices
Promotions can be managed, both in sales and purchases, from date to date, in absolute value, hectolitres and/or per cent.
Free products can be managed either by customer, supplier or rate, entirely by your choosing.
When selecting a customer, the standard information (rate, delivery date, type of document etc.) are displayed on their standard order.
Check customer's outstanding balance when opening an order.
Check orders that are already open and not yet delivered (so that it is possible to add goods to an order instead of creating a new one).
Display of price used (promotion, agreed price or standard item prices) per detail line.
Comment lines can be added or use can be made of a range of preprogrammed texts.
Customer notified via a message that articles are out of stock. Per day a want list can be printed based on this.
Sales representatives have the option of inputting goods pledged to the client free of charge.  These will then appear automatically on the next order.
Possibility to check obligations.  When saving an order, a list of items is displayed which will not be purchased despite the fact that a purchase obligation has been agreed for them.  A history of these items for the last 5 weeks is also displayed.
Manage branches at other locations using the internet connection to the central computer.
Purchasing
Punch will not only check your inventory, it will also automatically suggest orders per supplier.
Punch takes all possible discounts into consideration. Done with losses due to incorrect invoices from your suppliers.
Product management
Very quick to define derivative products, such as for example a bottle, a palette, packages etc.
An unlimited number of basic rates per product.
Different currencies (EUR, USD...) for the export of your product.
Separate screen for quick price adjustments per supplier:  when a purchasing price is changed, all sale prices are automatically recalculated so your profit margin is maintained.
Input of NIS code and country of origin for the Intrastat declaration.
Items can be sorted into item categories.  These can then be selected in all lists and statistics.
Enter the item number of the supplier per supplier as well as the minimum purchase quantity of the item from the supplier (e.g. in order to avoid unnecessary transport costs).
Possibility of creating gift items (beermats, wine boxes, Christmas packages etc.) with automatic stock adjustments when a gift package is sold.
Customer management
All standard customer information in one overview.
Several delivery addresses can be linked to one invoice address.
Credit limits per customer
Additional information can be entered into an information screen per customer, which can be called up when invoicing or automatically displayed.
Customer types allow you to divide your customers into groups and subgroups.
Price lists based on dates on which new prices became active.
Account statements (for customers and suppliers) with various levels of reminders.
Inventory management
Punch manages your inventory on-line at various stock locations including packaging.

It is easy to take stock of your inventory by using a tablet or smartphone with a barcode scanner.
CRM (tablet, smartphone)
Using a tablet, your account managers can input orders and a daily report directly when with the customer.

They also have all information available on their tablet (open items, sales statistics, customer data, standard order, range of items with prices and discounts, and more).
Electronic price tags


In addition to classic price labels on paper, Punch HD can be linked to an ESL system. When a price is adjusted in Punch HD, the prices in all shops are automatically adjusted. Each price label contains a small screen which is wirelessly connected to Punch HD.
Integrated accounting module
Completely integrated accounting module with all legal requirements.
Excise module (EAD, EMCS)
If your business requires this, separate duties can be linked to each item rate. As a result, discounts to customers are only calculated based on the price excluding duties and taxes.
A complete excise module for excise declaration and EMCS (EAD) is available. The ecotax or packaging levy is automatically calculated by the software.
E-Commerce

We either link your current website, or you can purchase our standard web module which is directly coupled to Punch HD. Item prices and discounts are retrieved from Punch and are automatically and correctly displayed on the website.
Orders are automatically put into a sales order.
In this way, routine tasks such as inputting orders are processed as quickly as possible, and you do not have to spend any time keeping your website up-to-date.
Business Intelligence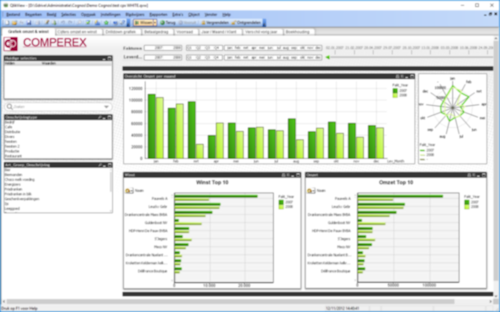 Both in terms of your sales and purchases, you can see everything, globalise everything, compare everything. You can do this by product, by product group, supplier or representative. You can create tables in order to follow the evolution per month, in volume, in number, in value or even in profit.

Keep track of your customers and discover which customers purchase less and of which products.
Transferring details from Punch to Excel or Word is also not a problem.
Electronic invoicing and archive
Every sales invoice, reminder and dispatch note can be sent to your customers via e-mail.
Instead of printing the mandatory copy of your invoice and archiving it, if using our software it can also be stored electronically on your server.
Touchscreen checkout module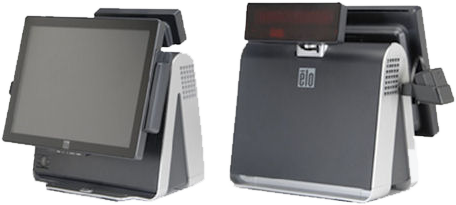 Create receipts for private customers.
Option of writing invoices for customers subject to VAT.
Items can be searched for quickly using any part of the description, via the barcode or using the item number.
Completely integrated with inventory management.
Option of printing out an overview of purchased goods on a day-to-day basis so that the warehouse assistant can easily restock the shop.
A customer card system with points, in order to reward loyal customers (this database will also allow you to carry out targeted folder actions).
Remote management of shops.  Here too you can print off invoices and labels.  The prices and customer details are updated on a daily basis.
EDI
An increasing number of companies are fully digitizing their document flow.
Orders from customers arrive digitally, packing slips and invoices are sent digitally.

Punch HD allows for complete EDI integration with your customers or suppliers (DESADV, RECADV, INVOICE, APPAREC).
Production & batch tracking
Our basic production module starts with the recipe and is able to follow all the steps of your production process (and can optionally be developed tailored to your needs).
Here, we also take into account the lot numbers of all raw materials, semi-finished products and finished products.
Full tracking is always possible. Using the lot number of the raw material, we trace it all the way to the end customer and vice versa.
Order picking using scanners (WMS)
Using scanners, order picking in your warehouse can be completely automated.
All purchases and sales are scanned in, possibly including the lot number and use by date.
Manage customer contracts
A module for following up contracts with/obligations to your customers or leases for your buildings.
Manage rental of party materials
Planning and management of materials which you rent out (tables, tents, bar, chairs etc.)
Process empties via tablet
The lorry drivers are equipped with tablets, and can add returnable packaging (barrels, bottles, crates etc.) directly when at the customer.
Customers use this tablet to sign for receipt of delivery and are sent an email with a calculated dispatch note or invoice attached (a paper document is still an option).
The lorry also has a live GPS-tracking module which is linked to this module.
Link to reverse vending machine for empties
Option of using a reverse vending machine or separate empties ticket. This ticket can be read by the checkout.